So, the design work on my son's room continues with the addition of this reversible duvet cover made from a fabric shower curtain.  That's right… a shower curtain.
For the past several weeks I've been searching for a duvet cover.   I wanted it to have a fun print, not too feminine, or too expensive.  The going rate for a reasonable nice duvet cover seemed to be about $100.    Here are some of the duvet covers I was considering.
Bed Bath & Beyond
West Elm
West Elm

Calvin Klein
I was just about to pony up the money for one of these beauties when I saw an ingenious idea from Jen at Tater Tots and Jello, describing how she made a duvet cover from a shower curtain. Pretty amazing, huh?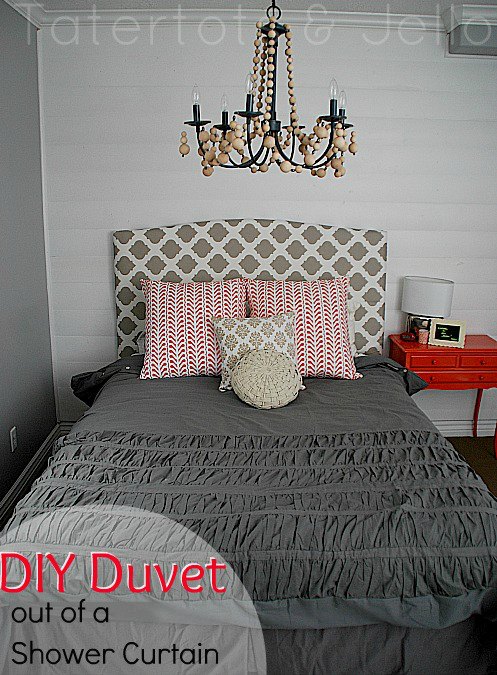 However, this exact design would not work in my 10-year-old son's room for two reasons:
Ruffles… that would be a definite deal breaker, and
Solid Color…his sheets and blanket were solid, so I needed to bring in a pattern.
So, I ran to Target and I found this fabulous fabric on clearance for $9.98.  It's a good thing, because I would need three of these curtains to make this work.  (If you choose a solid, you only need two.)
This is how I made it happen….
I washed the shower curtains to ensure they wouldn't shrink later.  Extra bonus… they don't wrinkle at all.
I measured my duvet and decided that with seam allowances my overall dimensions should be 87 x 94 1/2 inches.
So, I laid out one complete panel and trimmed off just the finished side seams.  Then, I opened the second shower curtain and cut two strips 7 1/2 inches wide down the entire length of the fabric.  This is what it looked like.
Next, I pinned the thin strips of fabric to either side of the main panel and sewed the side seams.
So the fabric would lay smooth, I ironed the seams flat.
Now, the width was correct, I just needed to add 22 1/2 inches of length.  However, that would leave a seam running across the entire width of my fabric so I decided to make the button closure a design element running across the width of the duvet cover.
Then, I simply pinned 22 1/2 more inches of fabric from the third shower curtain to the finished edge of the shower curtain which already had holes in it.   After I pinned it, I sewed on the buttons and the duvet cover was now the correct dimensions.
Finally, I made the duvet cover reversible, by making the back side of the duvet from a light-weight Pottery Barn coverlet we've had for many years.  I cut the blanket down to size and pinned it to the shower curtain fabric.  Then, I sewed around all four sides.
After unbuttoning the cover, I placed the duvet inside.  And, here it is!
The side seams don't match up perfectly, but I think they blend very well.  And the buttons add another fun design element to this look.
And, as an extra bonus, it's reversible!
Thanks Jen for your inspiration!